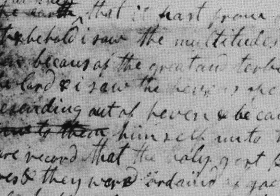 Introduction
The Book of Mormon is easily the most important product of the Restoration. It is a narrative that starts in Jerusalem in 600 BCE, a little more than a decade before Jerusalem is sacked by the Babylonians. The protagonist Lehi is a prophet enjoined to take his family to a promised land, which ends up being on the American continent. Two of his sons factionalize into the Nephites and Lamanites who are locked in battle for much of the book, but the principle story is about how this group prophesied of Jesus Christ before his birth and were visited by him after his resurrection. It then tells the story of the destruction of the Nephites and the rise of the Lamanites in the last days who would come to know Jesus Christ through this record. Let's follow how Dialogue has covered this important work.
Dialogue Topic Podcasts: Book of Mormon Topics Part 1 & 2
Featured Issues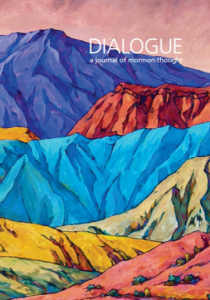 The Summer 2019 Issue studies the Book of Mormon in varied ways: Brian Hales kicks it off with an update on Automatic Writing and the Book of Mormon; then Ryan Thomas looks at the Gold Plates and Ancient Metal Epigraphy followed by Larry Morris considering the Empirical Witnesses of the Gold Plates. Finally, Rebecca Roesler studies the Plain and Precious Things Lost: The Small Plates of Nephi. If this isn't enough, there are reviews, poetry, a Levi Peterson fiction piece and colorful summer art by Royden Card.
Podcast Transcript
Part 1:
This month, we are looking at the history of scholarship on the Book of Mormon. There was so much content on this that I have decided to break it into two episodes. Part 1 in this episode will cover though the 1990s—a key moment of a real fissure in Book of Mormon scholarship—while Part 2 in next month's episode will go over the 2000s to the present.
The Book of Mormon is easily the most important product of the Restoration. It is a narrative that starts in Jerusalem in 600 BCE, a little more than a decade before Jerusalem is sacked by the Babylonians. The protagonist Lehi is a prophet enjoined to take his family to a promised land, which ends up being on the American continent. Two of his sons factionalize into the Nephites and Lamanites who are locked in battle for much of the book, but the principle story is about how this group prophesied of Jesus Christ before his birth and were visited by him after his resurrection. It then tells the story of the destruction of the Nephites and the rise of the Lamanites in the last days who would come to know Jesus Christ through this record.
Joseph Smith called it the "keystone of our religion." For many, the entire fate of the church itself stands or falls on the Book of Mormon. This means that one of the key questions has been whether it is a historical record or a product of the nineteenth century. We are going to think a bit about how this binary has structured the scholarship around the Book of Mormon, driving critical and apologetic efforts alike. And there have been many efforts to break this impasse! The nature of the Book of Mormon has also been bound up with another of Joseph Smith's translation projects, the Book of Abraham. I got over this story in a previous episode, but long story short, the original manuscripts of the Book of Abraham were rediscovered in the the 1960s and were not related to Joseph Smith's translation at all—thus calling into question the nature of the Book of Mormon.
It is also worth pointing out that scholarship on the Book of Mormon has not only happened in Dialogue. In the 1980s and 1990s, the Foundation for Ancient Research and Mormon Studies innovated new apologetic scholarship, which lives on today in the form of Book of Mormon Central. There is a Journal of Book of Mormon Studies, once housed at the old FARMS and now a central feature of the Neal A Maxwell Institute at BYU. There are also new scholarly societies dedicated to Book of Mormon scholarship. We've also begun to see articles and books in non-Mormon journals and academic presses. So, this vast landscape of scholarship means that a survey of Dialogue, as robust of material may be found there, is still partial. I'll try my best to contextualize broader trends, but even in all of this sea of scholarship, I was consistently surprised at the high quality, important pieces that have been published in Dialogue, up through today. Get ready for a wild ride!
Act I: Setting the Scene
Dialogue is founded in 1966, but it isn't until 1968 that we see the first article dedicated to the Book of Mormon. But Book of Mormon scholarship was undergoing some pretty serious innovations already. A couple important figures and trends to mention. First is B. H. Roberts, a leading intellectual in the early twentieth century who began to take seriously criticism of the Book of Mormon. Next is Sidney Sperry, a BYU professor trained in biblical studies at the University of Chicago. He'd written a number of important articles talking about how historical critical biblical studies intersected with the Book of Mormon—from its use of Paul and other New Testament material to second-Isaiah and more. The other is Hugh Nibley, a classicist trained at UC–Berkeley who began writing in the 1950s articles that set the Book of Mormon in an Ancient Near Eastern context. This culminated in the 1957 priesthood manual for use in the entire church: An Approach to the Book of Mormon. Back then, before anonymous correlated manuals, the church commissioned trained scholars and intellectuals to write the curriculum. Anyway, these major trends of thinking about the Book of Mormon in a critical, historical context, primarily to defend it and even vindicate its historicity, were already exciting, established trends.
But the first article published in Dialogue actually takes a different tack. Douglas Wilson's 1968 article, "Prospects for the Study of the Book of Mormon as a Work of American Literature" comes at the book in an entirely different way. You'll recall Gene England, one of the founders of Dialogue, came from a literature background, and literature scholarship was an important part of this new endeavor. Wilson was a non-LDS scholar of literature and a relatively important scholar of the period. He talked about how the book is difficult to read, its concerns are not the concerns of twentieth century readers, but is nevertheless important and deserves serious study by scholars of American literature. He suggests that scholars begin with theologically neutral textual criticism, now a robust field in Book of Mormon Studies, but then non-existent. Then he suggests myth-criticism as a framework for analysis. But he says this is just the beginning. A brief comment on this. Literary approaches have always a been a small subset of this scholarship, but growing increasingly important. Still, I recall sitting in a Harvard Seminar room where Richard Bushman was speaking to various scholars, making the case for the Book of Mormon as a work of American literature. The conversation was weighty, but one missionary who happened to hear about the talk and came to visit then bore his testimony that it was not an American book, but an ancient one because of chiasmus. It was an awkward moment that illustrated the resistance within some quarters of the LDS community to including the Book of Mormon as an object of study—and probably reinforced concerns that such scholars in the room might have harbored. So, more than fifty years after Wilson's plea, this remains a controversial appeal.
Summer 1969 examines an interesting, initially promising approach to New World archeology, a project that included Latter-day Saints interested in locating a context for the Book of Mormon. But in the mid-60s, there was a broader popular theory in non-LDS circles of ancient contacts between the Near Eastern and American peoples. A roundtable in this issue examines some of these early efforts (Cyrus H. Gordon, "Toward a History of Ancient America"; Dee F. Green, "Book of Mormon Archaeology: The Myths and the Alternatives"; John L. Sorenson, "Ancient America and the Book of Mormon Revisited"). In the 1950s, Thomas Ferguson founded the New World Archeological Foundation, which was incorporated into BYU and the Church under the direction of Elder Howard W. Hunter. This first official apologetic project wasn't a particularly successful venture and often led to embarrassment. This hypothesis has not held up over the past fifty years, but these entries capture some of the enthusiasm that was prevalent in this period for some trustworthy historical connection. Still, there were some important long-term outcomes. But what might surprise readers is how much myth busting is going on here—challenging the amateurish ideas that had taken hold. One of the earliest important figures here is John L. Sorenson. In his first Dialogue entry, he lays out the hypothesis of a central American anthropological and archeological context. He draws a number of parallels from pyramids to incense to sacrifices.
In Fall 1969, there were a few more entries. Robert E. Nichols Jr. wrote "Beowulf and Nephi: A Literary View of the Book of Mormon." He notes the same challenges to the literary scholar—the lack of a source text and of a text-critical edition. But still, he attempts to offer a literary reading of 1-2 Nephi—perhaps the first one ever. He concludes, "the Book of Mormon remains a challenging critical prize, undoubtedly the major prize of nineteenth-century Americana, perhaps the chief prize of the literature we call English."
That call for a textual study of the Book of Mormon finally came to fruition in 1977. Stan Larson was the first to offer a text critical study in "Textual Variants in Book of Mormon Manuscripts." Since then, so much more has been done, especially the backbreaking work of Royal Skousen, to establishing a workable text critical edition. But Larson paved the way by looking at the 146 pages of the Original Manuscript held mostly by the LDS Church, the 464 pages of the Printer's Manuscript held by the RLDS Church, as it was known then. Larson worked for the Translation Services department of the LDS church and was an important figure in 1970s Book of Mormon scholarship. Now, textual variants were well known in theory. Anti-Mormon literature, including that of the Tanners, frequently noted the substantive changes to the text not only in the early manuscripts, but also the later printed editions. Apologists had engaged these, but there hadn't really been a systematic study. Larson divides them into four categories: corrections of mistakes, clarifications, corrections that were better left unmade, and mistakes in the manuscripts. He goes through about fifty textual variants here between the Original and Printers manuscripts.
So, the bulk of scholarship in the first decade or so of Dialogue's treatment of the Book of Mormon was laying the foundation for a literary approach, one that was especially interested in the text as text, in narrative, and more. The apologetic arguments with anti-Mormons and the failed archeological approaches were given some small attention, but Dialogue authors—LDS and non-LDS—were making a different case for the Book of Mormon as a work of important and even great English literature. But the schism in scholarship was only just heating up.
Act II: FARMS vs. Dialogue
With the demise of earlier apologetic efforts at New World Archeology, the approach that Hugh Nibley had laid out inspired a whole new generation of apologists interested in establishing the Book of Mormon in the Old World—I'll just point out the Eurocentrism and colonial frameworks of those labels. Jack Welch, among others, was a part of this movement and founded FARMS in 1979 to become a hub for this movement. It grew in the early 1980s  at BYU when Welch moved there in 1980 as a place to defend the Book of Mormon and published his edited volume on chiasmus in 1981. Some of the early Dialogue contributors, like John L. Sorenson, flocked to FARMS. They soon tried to position themselves as the center for Book of Mormon research. One of their targets was George Smith. Smith was a freelance historian and financial wizard working in San Francisco. He founded Signature Books.
In 1983, George D. Smith published an article titled "Isaiah Updated." He discusses a problem that had been earlier mentioned by B. H. Roberts and Sidney Sperry, among others. The problem in brief was this: scholars no longer accepted the unity of the Book of Isaiah nor attributed it all to the historical Isaiah. The problem was that the later chapters from a later prophet, nicknamed Second Isaiah and who wrote during the Babylonian exile, namely, after Lehi had reportedly left Jerusalem. The problem is that this text, which didn't exist until after Lehi was on a boat sailing to the New World, somehow ends up in Nephi's record. The paper goes into a lot more issues about Christian and LDS interpretations of Isaiah more generally, challenging the validity of these supposed prophecies. Defenders of the Book of Mormon argued that the evidence should be read the other way around: that the Book of Mormon provided clear evidence that Second Isaiah was pre-exilic, and that Isaiah is a unified text. Smith's article called into question these claims. This article got lots of attention in letters, including from Bill Hamblin, an apologetic staple for the next several decades.
In 1984, George Smith had another important article, "'Is there any way to escape these difficulties?' The Book of Mormon Studies of BH Roberts." As mentioned before, Roberts was a member of the Quorum of Seventy and a leading intellectual in the church. Beginning in the 1920s he began to seriously examine the arguments around Book of Mormon historicity but also became skeptical of many of those same arguments. For a while before Smith's article, the debate was whether Roberts was expressing his own doubts or merely laying out the best version of the counterarguments to the Book of Mormon. Roberts seemed to have been persuaded that there were significant, meaningful parallels between the Book of Mormon and Ethan Smith's A View of the Hebrews, a nineteenth-century fictional account that pre-dates the Book of Mormon, but also tells a story of Israelite lineage of Native Americans. He also covers the archeological difficulties that Roberts discussed. A lot had changed since the 1920s, but not that much, and the core issues that Roberts faced remain important.
This article too attracted negative attention from FARMS, since Jack Welch had advised Dialogue against publishing it. His connections to Elder Neal A. Maxwell may explain why this otherwise benign piece ended up in a memo by Elder Maxwell, advising that John Sorenson be commissioned to "respond to the recent ramblings of George Smith."  He issued a memo in fall of 1984 commissioning a "scholarship defense of the historicity of the Book of Mormon."
The Ensign published Sorenson's essays "Digging into the Book of Mormon, Parts 1 and 2" (Part 1, Part 2) a few months later, and many saw that as a rebuke of George Smith. That same year, Soreson published his classic book, An Ancient American Setting for the Book of Mormon.
In the Summer 1985 issue George Smith writes a letter to the editor at Dialogue responding to John Sorenson, challenging some of the revisionist apologetics—limited geography and the idea that there were other peoples already in the land besides the Book of Mormon people. Robert Smith responds with a caustic letter to the editor back. This went back and forth in the letters to the editor for a while. Spring and Summer 1986 have pro-Sorenson letters on geography and animals.
George Smith's pretty mild criticisms of Book of Mormon historicity became a particular target for FARMS over these early years, and they increasingly went after him personally—Bill Hamblin, Daniel Peterson, Louis Midgley, Robert Smith, and others. Smith was a founder of Signature Books and the conflicts between these two presses, FARMS and Signature, dominated a decade or more of Mormon intellectual energy.
In Fall 1984, Grant Underwood wrote a really important article: "Book of Mormon Usage in Early LDS Theology." Now, this research has since been updated and nuanced, but Underwood made a fascinating observation about early LDS citations of the Book of Mormon—they are very, very rare in the LDS periodicals up through 1846, even to the point of neglect. Underwood's argument was an interesting intervention in two ways. First, a number of LDS scholars were looking to the Book of Mormon to understanding early LDS doctrinal development. It is notable that the theology of the Book of Mormon departs from mainstream LDS teachings on a number of points, and people began to argue that it represented an earlier Joseph Smith, for instance. Underwood's argument challenged this by suggesting that the Book of Mormon had minimal use or impact on early LDS thought in general, let alone doctrinal development. Second, this absence was implicitly contrasted with the modern church, where the Book of Mormon was quickly outpacing the Bible in importance. Whether good or ill, the Book of Mormon was treated rather casually in Smith's day, including by Smith himself. What was important, when it was cited, was the millenarian ideas in the Book of Mormon. So, this is what we call reception history, which looks at how a text has been received. Different from George Smith's study of B. H. Roberts, Underwood was expanding this kind of research to statistical analysis.
So, the early 1980s was still a time when diverse voices and approaches appeared in Dialogue, but hostility was also increasing from a vocal and forceful faction who believed they had apostolic sanction for their tactics. It is the early phases of what is going to become known as the Book of Mormon Wars.
Act III: Breaking Past Apologetics
As I mentioned, apologetics is really heating up, with two major camps. One who is arguing for ancient contexts for the Book of Mormon and the other arguing for a nineteenth-century context. Fortunately, scholars had been looking at entirely different approaches altogether in the pages of Dialogue all along—from reception history to literary studies—but these battles were being fought here too and sucked up a lot of attention. So I want to discuss a few classics that all students of the Book of Mormon should know that was an early attempt to get past the hostility and find some common ground and shared solutions.
First is Bruce Lindgren "Sign or Scripture: Approaches to the Book of Mormon" from Spring 1986. Oh, I love this one so much. This is by an RLDS scholar who says that maybe this whole debate about which context we need to read the Book of Mormon is wrongheaded. That is reading it as a history book. "Why does discussion of the Book of Mormon typically tend to focus on questions of its historicity and authorship, on Meso-American archaeology, chiasmus, and word prints?" This sees the Book of Mormon as a "sign" of Joseph Smith's prophetic call or his status as a fraud. But that is a pretty narrow way of reading it. Instead, he issues a challenge to focusing on historicity in Book of Mormon interpretation, and instead read it as scripture: "I find a more personally relevant question to be: how does the Book of Mormon present the basic doctrines of the gospel? What role should the Book of Mormon play in our religious and intellectual lives? Is it a sign of the divine origin of the restoration movement or is it scripture?" There has grown up a whole school of thought around this latter approach in Book of Mormon theology now, especially from Jim Faulconer, which says that history is the wrong genre for understanding scripture. But we see here this early treatment.
The next article is from Spring 1987, "Book of Mormon as Modern Expansion of an Ancient Source." Here, Blake Ostler takes on the historicity question and attempts to cut the gordian knot with a hybrid solution. He used source criticism, a method that attempts to separate out distinct underlying sources in a single document. This is one of the classical methods in biblical studies here applied in a distinctive way to the Book of Mormon. Ostler argued that the plates were real and that the Nephites were real, but that Joseph Smith drew on his own experience in the narrative. In this way, he could grant the best of the ancient parallels and the best of the nineteenth-century parallels to argue that there was a base text as an ancient source but also that it catalyzed new revelation for the modern day through Joseph Smith as translator. He conceded a number of anachronisms in the the Book of Mormon, especially relating to theological ideas. But he also found value in ancient parallels to rituals, ancient prophetic practices, and more. This approach was obviously hated by many invested on either side of this, but it has grown in popularity with a number of contemporary believing scholars to subscribe to the basic premise. The details of this analysis have continued to be debated, disputing the validity of the various parallels that he discusses, but it remains a useful survey of some of the major arguments from the time.
Sometimes in this period we saw more close exegetical readings of specific passages, especially those that loomed large in popular LDS culture. Ezekial 37, the sticks of Judah and sticks of Joseph, was one such case. In 1990, Brian Keck wrote, "Ezekiel 37, Sticks, and Babylonian Writing Boards: A Critical Appraisal," where he explained what those passages meant in their ancient context.
We weren't done with the B. H. Roberts story either. Brigham Madsen, a professor at Utah State, wrote in 1993: "B. H. Roberts's Studies of the Book of Mormon." Was Roberts a believer or skeptic? Madsen offers more insights into how B. H. Roberts dealt with his questions about Book of Mormon historicity. Madsen offers new historical details to the drama around this story.
So, there were articles that were challenging traditional history or interpretations of the Book of Mormon in these years, but I think that in the late 80s there is a really important period. This brief moment showed sincere and serious efforts to bridge the growing gap between scholarly camps—but it was as unsuccessful as it was short-lived. An attempt to find a middle way for believers that could also accommodate the arguments from critics seemed to satisfy no one—least of which the apologists. The war was on.
Act IV: Book of Mormon Wars
It's worth mentioning, briefly, that there were a bunch of important edited volumes that came out during these years. In 1982, FARMS had published one of its first volumes edited by Noel Reynolds, Book of Mormon Authorship: New Light on Ancient Origins. In 1990, Signature books published The Word of God: Essays on Mormon Scripture edited by Dan Vogel. They followed up in 1993 with an edited volume by Brent Lee Metcalfe, New Approaches to the Book of Mormon: Explorations in Critical Methodology. These then sparked further, often hostile exchanges with apologists in the FARMS Review of Books on the Book of Mormon, one of the low-points for decorum from BYU authors who often substituted personal attacks and credential-waving for actual argument. The Book of Mormon Wars were underway.
Winter 1991 Neal Chandler, "Book of Mormon Stories that My Teacher Kept from Me"
"It may be no more than a kind of perversity that brings me to admit what I will tell you now, namely, that when it comes to the Book of Mormon, that most correct of books, whose pedigree we love passionately to debate and whose very namesakes we have, all of us, become, I stand mostly with Mark Twain. I think it's "chloroform in print."  It is a humorous, but serious critique.
"This is a book of men, by men, for men, and openly and conventionally, at least, about men only. "
This got a letter to be sent to his bishop and stake president to not allow him to speak in church anymore. LDS folks were more bold to speak out and even say potentially offensive things, not just air the history.
A 1993 article by Brent Lee Metcalfe also came back to the basic assumptions of competing schools of Book of Mormon scholarship. In "Apologetic and Critical Assumptions about Book of Mormon Historicity," Metcalfe pointed out how these positions valued historicity differently. For traditionalists, historicity was necessary for value and authenticity. For critical approaches, religious value was independent from historicity. But the real meat of this paper is in the analysis of methodologies and standards of proof. He goes through a few key examples, from metal plates to geography—with the limited geography model paying strict attention to description of travel, but not animals, to chiasmus. Metcalfe also provides some interesting assessment of Ostler's expansion theory, and some of the early bibliography responding to it.  Metcalfe challenges the theory by saying that if you think that the anti-Masonry of the Book of Mormon is an anachronism, as Ostler did, then you must also think that the idea that Native Americans originate from ancient Israelites is also a common nineteenth-century idea—thus the entire historical claim of the book itself is also a modern concept. So, Metcalfe was obviously on the "critical" side of the spectrum, but provides a great discussion of what he saw as an interpretive starting point—Joseph Smith's own teachings and understandings as comparison documents for the Book of Mormon.
The response to this article, and Metcalfe's book, was not great. Signature had threatened to sue FARMS for defaming some of its authors by calling them "anti-Mormon." Bill Hamblin encoded a message "Metcalfe is Butthead" in a FARMS Newsletter. These events and exchanges were spilling out past the pages of Dialogue, Signature, Sunstone, and FARMS, and into the press who was interested in the rancorous exchanges. A lengthy book review in the Winter 1994 issue of Dialogue of Metcalfe's book and the 556-pages of responses in the 1994 FARMS Review of Books provides a useful summary and fair assessment of the issues.
It also polarized the publication venues. Dialogue had run into some trouble with church leaders in 1993, when things culminated with the excommunication of several authors associated with Dialogue and Signature Books. Though Dialogue had always been and remains open to publishing more conservative voices, those authors flocked to venues seen as safer. That left a smaller group of people submitting and publishing in Dialogue.
Quinn Brewster's 1996 article, "The Structure of the Book of Mormon: A Theory of Evolutionary Development," discusses an interesting problem: why does the structure of the Book of Mormon change throughout the book? The book itself addresses the issue with large and small plates source material, and early revelations talk about the crisis of the lost portion of the translation.
Later in 1996, Mark D. Thomas, scripture studies editor for Dialogue for a while, published "A Mosaic for a Religious Counterculture: The Bible in the Book of Mormon." It is an interesting article. It argues that the Book of Mormon needs to be understood as "countercultural" because of its antielitist stance. The central issue that article also tackles how the Book of Mormon uses the Bible for its purposes. It looks at a number of intertexts between the Bible and Book of Mormon to show how they are used as a "mosaic," small pieces that together tell a larger story.
In 1997, Brigham Madsen's "Reflections on LDS Disbelief in the Book of Mormon as History" generated a lot of controversy. He drew on the research for his earlier work on B. H.  Roberts and the Book of Mormon, but just made the case that the Book of Mormon wasn't historical at all—the problems Roberts had first wrestled with had not been resolved and the case had actually gotten worse, not better, with more research. But he wants to make space in the church for those who doubt the history of the Book of Mormon as a matter of research, but who still want to belong to the faith, decrying the standards of orthodoxy that preclude different interpretations of the existing evidence.
The final article that I will discuss in this section is David Wright's, "Joseph Smith's Interpretation of Isaiah in the Book of Mormon." Wright is a well-known biblical scholar and former Latter-day Saint, who left BYU under pressure for his teaching of biblical scholarship and perhaps his views on the Book of Mormon. He was a contributor to the 1993 Metcalfe volume New Approaches to the Book of Mormon. This article provides an essential study of the Isaiah problem in the Book of Mormon—its use of post-exilic elements of the text—from a different approach. Instead, Wright looks at how Isaiah is being used. He shows the dependance of Book of Mormon Isaiah on the King James Version of the Bible, but looks at how specific passages from Isaiah are used throughout the Book of Mormon, especially Isaiah 48-49 about the return of Israel from Babylonian captivity, as well as Isaiah 29, a classic proof text used as a prophesy for the Book of Mormon. He then locates the interpretations in the Book of Mormon within the broader history of interpretation.
The quality of the articles we've looked at is excellent, even though much may now feel dated. But it is hard to look back on the twists and turns that Book of Mormon scholarship was taking during this period without some wistful hope that things might have turned out differently. My sense is that there was huge damage done to the field by the alienation of these camps, which not only damaged feelings, relationships, and even careers—some ongoing for those involved in this fight—but ultimately damaged the field when the stakes were set so high and the gloves off. I think it is a sad chapter, and the effects still haunt us decades later. There were a lot of great studies that came out of all of this, and I'm sure that the intensity of the battle helped refine some of the scholarship, but the costs otherwise seem to have been too great. I look forward to later periods that we will discuss, including the present, when some of these wounds heal and the founding principles of Dialogue—a community of those who listen and speak with equal rigor—comes to prevail.
Okay, so that takes us up through the 1990s, through the most serious decades of the Book of Mormon Wars. They weren't over by any means, but this seems like a good place to pause. In the next episode we will pick up the story and bring it up to the present. I was amazed at just how much, and how good, the Book of Mormon scholarship is these days, including some new work that is about to drop in the Fall and Winter 2021 issues of Dialogue! Tune in next month to learn more.
Part 2:
This month, we are looking at the history of scholarship on the Book of Mormon. There was so much content on this that I decided to break it into two episodes. Part 1 in the last episode covered though the 1990s—a key moment of a real fissure in Book of Mormon scholarship while Part 2 in this month's episode goes over the 2000s to the present.
This is a good place to start a new chapter. At the 2000 Sunstone Symposium, Brent Lee Metcalfe described the contemporary moment surrounding the Book of Mormon as "a Galileo Event." What he meant was that the evidence that had been presented against the historicity of the Book of Mormon was so compelling that the church would have to change is paradigm, much like Galileo's challenge to the geocentric model of the universe. He was overly optimistic, perhaps, that the Book of Mormon wars would have a significant impact on the church, but the issue certainly hasn't been resolved in the church more than 20 years later.
Act 1: Book of Mormon Wars Continued
In 2000, we are still in the midst of the Book of Mormon wars. These were about setting the context, whether ancient or modern. FARMS was still coming off its height.
But things weren't calming down.
First up in the new century, Douglas Salmon, "Parallelomania and the Study of Latter-day Scripture: Confirmation, Coincidence, or the Collective Unconscious." This remains an important article. This goes right to the heart of things–how to explain the apparent similarities between ancient near eastern texts, cultures, and so on. This was a trend we've talked about, really pioneered by Hugh Nibley, whose work is discussed a lot in this article, and continued by FARMS. The author, Salmon, makes the case that rather than a careful methodological comparison, this approach exhibits parallelomania. This means that they were overemphasizing similarities and deriving significance from that supposed similarities. Further, he argues that the parallels rely on extreme selectivity, misrepresentation, and more. He goes after a number of the most important examples up to that point. It remains one of the most significant challenges to Nibley's method up until then. It also contextualizes this approach in broader scholarship on the study of religion, showing connections to Eliade, Jung, and others. A fascinating article.
While this one was a respectful, if hard hitting challenge to the paradigm. They weren't always like this.
Robert Patterson's article, "Hebraicisms, Chiasmus, and Other Internal Evidence for Ancient Authorship in Green Eggs and Ham." Wow, this was a satirical take on the proofs for antiquity that had become commonplace in apologetic scholarship. When Jack Welch made the argument for chiasmus as an ancient Hebrew literary form in the Book of Mormon just a few decades before, it had remained at the center of the defense of the ancient origins for the book. But over the ensuing decades, a number of challenges had arisen, including the fact that chiasmus was discovered in a variety of different different modern texts.
"I am Sam. Sam I am." Chiasmus.
Patterson writes, "Upon an initial and cursory reading, the book appears to be a simple morality play. Zealous purveyor of an unusual gustatory selection hawks his wares to an Everyman, whose initial biases preclude his acceptance of the unfamiliar. By the end of the story, the Everyman has overcome his baseless prejudices and rejoices in his newfound knowledge. The book made perfect bedtime reading for the generation of youth later known as the baby boomers. Deeper analysis, however, reveals that the book has complex subtexts comprehensible only when the factual nature of its real authorship is known. Indeed, there is overwhelming evidence that the manuscript did not originate with Geisel, who likely fallaciously claimed credit for an archaic work that he or someone else surreptitiously translated from an ancient language into modern English."
It continues like this, mimicking the seriousness of Book of Mormon literary devices and ancient Israelite themes, and wordprint studies. It didn't add much to calming things down.
In 2002, Earl Wunderli's contribution is "Critique of a Limited Geography for Book of Mormon Events," Like the others, this goes after the FARMS model, this time the main thesis of John L. Sorenson. Sorenson had located the Book of Mormon events in a very specific context in central America, identifying certain features like the narrow neck of land. It also suggests that not all the Native Americans are descendents from Lehi, but rather a specific subset of peoples from this one small area. Wunderli says that lots of people had challenged this hypothesis on external, empirical evidence. Wunderli's article instead argues against it on internal evidence, of what the Book of Mormon says. This provides a good overview of the major arguments and scholarship, and then critiques the limited geography model, suggesting that the hemispheric model still best fits the internal narrative of the Book of Mormon.
In the same issue, Bob Rees wrote, "Joseph Smith, the Book of Mormon, and the American Renaissance." Rees was the former editor of Dialogue, but also was a literature professor. He summarizes the debates over the Book of Mormon. Both groups, he says, find their own parallels. "I have been labeled," he says, "both an apologists and a naturalist critic…I have watched the exchange with interest." He tries to offer a different way here. It's a good introduction to a lot of the scholarship up to that point, much that we haven't discussed. Like Ostler or others, he was looking for a middle ground. "the Book of Mormon may be genuinely both an ancient and modern text." There were real Nephites, but Joseph Smith translated the text into his 19th c. mind.
It is in 2002 that one of the most important studies of the Book of Mormon was published. Terryl Givens, By the Hand of Mormon, came out from Oxford University Press. It was a bit of a sensation. reviewed in the New York Review of Books and really launched his career. This book summarized many of the debates, but sided more with the apologists. Its another great text that captures the eras assessment of the important of the Book of Mormon and the ongoing debate about its meaning.
Act 2: The 19th-Century Hypothesis Continues
By this time, the Book of Mormon wars were in the second generation and had come to occupy significant scholarly attention. That also meant that the publication venues were seriously polarized. FARMS on the one hand, and Signature Books, and to a lesser extent Dialogue. It wasn't of course by choice, but just how the scholarly landscape shook out.
In 2003, we see more contributions with several articles on the Book of Momron in the Winter issue. Clay Chandler, "Scrying for the Lord: Magic, Mysticism, and the Origins of the Book of Mormon" made another pass at the magical culture of Joseph Smith's early career. Since the 1980s Hoffman forgeries and then Michael Quinn's Early Mormonism and the Magic Worldview, and others, folk magic was a big topic. This paper looks at three phases of the Book of Mormon's production—the discovery of the plates, the practices of mysticism that were part of the translation experience, and Joseph Smith's transformation from translator to prophet. He looks at the role of magic in all three phases, from seer stones and buried treasures to mystical states to a variety of specific episodes that he says make sense as magical practices.
That same year, we see the publication of Robert Price, "Joseph Smith in the Book of Mormon." By this point, the arguments are all pretty straightforward and the camps are solid. Price argues that Joseph Smith is the author of the Book of Mormon. He rejects the idea that someone outside of Mormonism could have been the author, or that it was a pastiche of other early American works. The main reason is because the Book of Mormon itself, and most importantly Joseph Smith himself, is a significant character of the Book of Mormon.
The last article from this 2003 issue is Thomas Murphy, "Simply Implausible: DNA and a Mesoamerican Setting for the Book of Mormon." This marks the first time that the DNA issue had really come to the pages of Dialogue. Murphy was a key player in this debate. This article a response to some FARMS and FAIR criticisms of an earlier book chapter published by Murphy, where he answers a number of the objections. They all agreed what the evidence was, that it didn't support any traditional understanding of the Book of Mormon. Native Americans are not descended from ancient Israelites. The issue was what that meant. Apologists argued that the limited geography model meant that the DNA wouldn't really be detectable. Others argued that it meant that Book of Mormon just wasn't a historical record. The essay is organized around the key arguments and walks through the evidence, so it is a good place to start to orient yourself on this debate.
Moving ahead to 2005, we see another new contribution. John Williams, "A Marvelous Work and a Possession: Book of Mormon Historicity as Postcolonialism." I think that this remains an important paper because it really brings in race and politics into Book of Mormon scholarship—not in terms of hashing out the justice or meaning of the curses, but of how the narrative and its interpretation incorporate or take possession of certain peoples for its own purposes. He compares the book of Mormon to the 13th century book The Travels of Marco Polo. He isn't drawing crude parallels about influence or origins. Indeed, he is explicitly discussing the hazards of parallelomania that Douglas Salmon had put forward. He wants to reframe this whole question at a meta level—to talk about how the Book and its coming forth are colonizing events, taking possession of a people in the narrative. And he calls the contemporary analysis that limits the authority and totalizing claims of the Book of Mormon's claim about who the Lamanites are, whether from apologists or naturalists, decolonization. The question of the identity of the Lamanites is at the heart of this process.
Other 19th century approaches continued to be put forward, including Clyde Ford, "Lehi on the Great Issues: Book of Mormon Theology in Early Nineteenth-Century Perspective." Really, he isn't making a definitive argument about historicity—only that the theological arguments in the Book of Mormon seem "designed to be read and understood by its early nineteenth century audience." This is an effort to then locate more precisely the theological arguments that it was engaged it by mapping the different schools from Calvinism to Arminianism to Methodism to Universalism and more. He looks at some of the major theological rivalries of the day, and where the Book of Mormon lands on them. He argues that the Book of Mormon doesn't consistently side with one school, but is an eclectic mix of various theological positions of the day.
The last article in that 2005 issue I want to discuss is about chiasmus. Earl Wunderli's, "Critique of Alma 36 as an Extended Chiasm." This article looks at one of the most famous and claimed to be structurally elegant example in the Book of Mormon of this literary form, first noticed by Jack Welch. In Alma 36, Alma the Younger recounts his conversion, from the lowest lows to the highest highs. But Wunderli challenges the evidence here, saying that no such chiasm was intended. There are a number of asymmetries or the pairs are linked in a weak way. If there is extended chiasmus in the Book of Mormon, rather than small examples of a few verses, this chapter is not a good example.
A year later, father and son Boyd and Farrell Edwards respond to this article. They make an argument about statistical probabilities to note that the structural parallels are not an accident. Further, the existence of several other chiasm, large and small, suggest that intentionality cannot be dismissed here.
Act 3: Post-Apologetics
In the 2010s, we start to see a variety of new approaches. Some were really taking Book of Mormon scholarship in new directions entirely, as we will see. Others were continuing to advance to historical analysis.
Peter Huff's 2010 article, "A Gentile Recommends the Book of Mormon" was just such a new kind of article. This is a matter of interfaith dialogue. The Book of Mormon has often attracted admirers from outside the faith. Huff puts it in the category of "world class scripture." He also has an interesting line: "In the academic world specialization in Mormon Studies can wreck a promising career." That was just in 2010 and while there are still some risks, it doesn't seem to be the case anymore. But he talks about a general prejudice against the Book of Mormon. But he notes, "the Book of Mormon is an extraordinary piece of literature." So, we see again the resurgence of literary approaches to the Book of Mormon that assess its literary quality. Twain's assessment of the books as "chroloform in print," was funny, but wrong, he says.
The truth is that this was a bit of a high point for the Book of Mormon. Terryl Givens followed up his bestselling with a Brief Introduction to the Book of Mormon. Paul Gutjahr published The Book of Mormon: A Biography. Grant Hardy published Understanding the Book of Mormon: A Readers Guide. Rick Turley and William Slaughter published How We Got the Book of Mormon. Royal Skousen was producing a long-awaited text critical edition of the Book of Mormon. Oxford University Press and others were all in, and it wasn't just LDS scholar but non-LDS ones as well. The dawn had broken and a new generation of scholars was now dictating the narrative—not just the apologists and naturalists.
A 2012 article from Jacob Bender further captures this turn. "For All Things Must Fail": A Post-Structural Approach to the Book of Mormon." Bender brings Derrida to bear on the Book of Mormon. "I argue," he says, "that the Book of Mormon's text participates in its own self-deconstruction, systematically undermining the reader's confidence in the text while also engaging in what the Derrida termed 'freeplay' with words." For people into literary and interpretive theory, this is a great read. It really explores the theme of the failures of language in the Book of Mormon. The article is a great example not only of a post-apologetics literary approach, but of the sophistication that Book of Mormon studies was beginning to show.
In 2014 Clyde Ford returns to the journal again with an important follow to his earlier article. In "The Book of Mormon, The Early Nineteenth Century Debates Over Universalism, and the Development of the Novel Mormon Doctrine of Ultimate Rewards and Punishments," Ford sets the Book of Mormon in the context of debates over universal salvation that were a big part of the scene in Joseph Smith's day. Further, he locates these teachings in the context of Smith's own development of teachings on universal salvation. This is an excellent study of the key issues in the history of LDS doctrines, as well as the Book of Mormon's theology.
That same year, Bryan Warnick, Benjamin Johnson, and Sang Hyun Kim published "Hospitality in the Book of Mormon." This article compares the theme of hospitality practices to the Bible and other ancient literature. It looks at the stories of Zoram, Alma and Amulek, Ammon and Lamoni, and various homilies in the Book of Mormon that contain elements of hospitality culture and concern, especially that of the Book of Mormon. They conclude, "Hospitality in the Book of Mormon is not just a host increasing his honor by being generous to a potential enemy under his roof; it is also an opportunity to act as God acts toward others, with kindness and mercy, offering up one's home as a place of safety and protection." A great discussion of another important theological theme.
In 2014 again, Roger Terry also publishes "Archaic Pronouns and Verbs in the Book of Mormon: What Inconsistent Usage Tells Us about Translation Theories." You'll recall that translation theories had been a big deal for a long time—was the Book a word for word translation, read from the seer stone or Urim and Thummim? This had been a popular one, and was dominant in conservative accounts, who had put forward various proofs for this. Or was Joseph Smith responisble for some of the theological and even narrative content of the book? Blake Ostler and others had pioneered this approach of a loose translation to explain the anachronisms and other features. These were perhaps revelations. Terry looks at something else—the grammar of the Book of Mormon. Lots of "ye"s when it should be a "thou," and so on. He then puts forward what he calls a "new translation theory." It's not one that has, to my knowledge, gained wide acceptance—and in the last few years alone several major studies of JS's translation method have appeared, but is nevertheless an interesting proposal to solve some problems that the earlier theories hadn't considered.
Act 4: Recent Studies
In this final section, I want to summarize some of the new directions we have seen in Book of Mormon scholarship. The old questions have not been completely settled, and I expect we will continue to litigate these for a long time, but there are new approaches to these questions and new questions entirely as well.
I want to start out with a sermon by Jared Hickman, "Learning to Read with the Book of Mormon." We haven't covered sermons here, but this one is an exception. Jared Hickman published in 2014 one of the most consequential, if not the most consequential article on "the Book of Mormon as Amerindian Apocalypse" in the journal American Literature. This article challenged the traditional reading of racism in the Book of Mormon, showing how it deconstructs itself. This approach blew people away and has remained hugely influential for rereading the Book of Mormon. The sermon is really a deep analysis of reading. Gorgeous, from one of the great scholars of our day.
In 2017, another amazing scholar Colleen McDannell makes another key contribution. "Mexicans, Tourism, and Book of Mormon Geography." McDannell brings a material culture lens to the tourism industry that sprung up from apologetica approaches to the Book of Mormon. How has the Book of Mormon shaped the real world and people's live experiences? This article is so important and innovative. It tells the whole story of how the Book of Mormon geography got debated, from the early 20th century to today. This is hugely important history of the particular subquestion in Book of Mormon Studies. You'll also meet some key figures in Mexico who are part of this industry. I love this article, and highly recommend it.
We see a collection of important articles in the summer 2019 that all deal with the Book of Mormon, the first issue in a long time to publish so many articles on the Book of Mormon. First up, Brian Hales, "Automatic Writing and the Book of Mormon: An Update." Here, Hales examines one of the newer theories for the production of the Book of Mormon among naturalists, who argued that Smith wrote while in a trance, or automatically. There are several examples of this kind of unconscious writing, and Hales examines these as comparisons. Most important here is a 1915 written with a medium called The Sorry Tale. There are others as well, but Hales argues that there are too many dissimilarties to classify the book in this way.
Next up is Ryan Thomas, "The Gold Plates and Ancient Metal Epigraphy." This article is the definitive study of writing on metal plates in antiquity. It looks at all the examples. This is part of a larger trend to study the question of the gold plates. Richard Bushman, Ann Taves, and others have puzzled over this. What Ryan Thomas does is establishing whether there were any ancient precedents for something like the brass plates or gold plates, metal codices. The descriptions in the Book of Mormon diverge from all known examples. An online only appendix goes into more detail.
In the next article, Larry Morris's "Empirical Witnesses of the Gold Plates," there is more discussion of the various witnesses to the gold plates among Joseph Smith's contemporaries.
Finally, Rebecca Roesler wrote "Plain and Precious Things Lost: The Small Plates of Nephi" as the last contribution to that special 2019 issue. This is a study of the role that the small plates of Nephi play in the narrative of the Book of Mormon itself. It was called a "plain and precious" book. This is actually a really big issue in apologetic and naturalistic approaches. Quinn Brewster's article from 1996 offers some discussion of this. Roesler offers another perspective that, "sometime in the generations before Alma, the small plates of Nephi and the teachings thereon are lost or obscured from view." Now, I don't know if you've noticed, but it is worth mentioning here, that Becky is one of the only women who has published on the Book of Mormon in Dialogue. Recent years have seen a big influx of women scholars into this subfield, but not as many have been publishing in Dialogue. I hope we see that change!
The most recent article we've published is by William Davis. Davis's 2020 book Visions of a Seer Stone was a finalist in the American Academy of Religion book awards. It's a huge deal. Anyway, his fall 2020 article is called, "The Limits of Naturalistic Criteria for the Book of Mormon: Comparing Joseph Smith and Andrew Jackson Davis." This takes his book's research in a new direction. He looks at the claims that Joseph Smith could not have produced the Book of Mormon, and brings new data to this long-standing question. He looks specifically and Andrew Jackson Davis, an American seer who wrote The Principles of Nature in 1847 while in a trance. "In this comparison," he writes, "we find another complex text produced by a speaker with limited formal education and training, created under similar conditions and circumstances, and a work that stands as its young creator's greatest masterpiece, even though the text was created at the dawn of the speaker's career." This is sure to make a lasting contribution to the discussion.
Okay, so we conclude the most recent period with a bit of analysis. There is so much more to say about the Book of Mormon. We are still seeing some of the classic questions on historicity come up. But even here, there is so much innovation about ancient and modern cultures, new theories of automatic writing that are being debated, and more. But we are also seeing new approaches altogether. New areas of research on the gold plates, on the structure of the book of Mormon, and new innovations on the reception of the Book, including tourism, show a lot of promise.