Web Only Fall 2019 Feature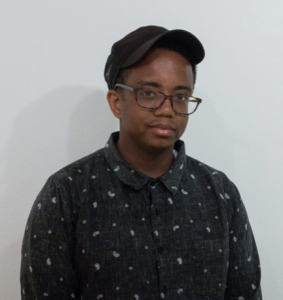 Julian Harper is from Indianapolis, Indiana. He received his BFA from Brigham Young University and has exhibited nationally and internationally, including the CUAC 2017 Utah Ties Exhibition and 2017 Art Dusseldorf Bloom Award Exhibition. His work has been featured on Hurst and Edeltraut online magazine and The Dorf magazine. Julian Harper is currently studying for his MFA at the University of Pennsylvania.​
***
The curse of Cain and other racist folklore came up a few times during my time at BYU. One of my religion professors took the stance I hear most frequently—that the curse, described in the Book of Mormon, and placed on the Lamanite people, is different from the mark (or curse) of their skin being darkened. Even though he tried to separate the two, I did not appreciate this. (Partly because none of it makes sense.) I did have one D&C teacher, who I am thankful for, who was very frank about the racism of the saints—especially in the early development of the Church. On my mission, I had multiple companions who told me they believed in the outdated teachings of the Church—that African Americans were less valiant in the pre-existence. I see them sometimes on campus.
At a BYU ward talent show I had an uncomfortable encounter with inadvertent racism. My bishopric planned and performed a rap as part of the show. While as a music genre rap may have transcended its African American roots, the bishopric dressed up as stereotypical (in their eyes) rappers. They wore gold chains and baggy pants, turned their hats askew, and used Ebonics they had probably learned from TV. I left the activity immediately. Though parody is a part of American humor, this was different for me. I remember in elementary school I used to wear a tank top and a gold chain sometimes. My friends and I would try to memorize the latest songs and make our own rhymes and beats. It was our way of life. So, when I saw my bishopric make fun of it, it was jarring. They were unaware but when ward members laughed at the performance it felt like they were laughing at my friends and family. I was too frightened to tell my bishop about my feelings. When I later told a friend in the ward how I felt, she dismissed me, saying "they obviously didn't mean to be racist." At that point, I felt I had no one to talk to.
The racism I encounter among students is subtle but frequent. It manifests itself in everyday conversations. For example, on the Fourth of July, I was asked what I was doing for the holiday. I replied that I loathe the holiday because American history is riddled with the oppression of minority peoples. I was told I was too sensitive and couldn't accept the good with the bad. I've also had more overt experiences of racism— like when I moved in my freshmen year I found out that my roommate was surprised that I was black—and not the kind of black person he was expecting. I have been told a number of times that I'm "not as black" as other people. I have also been tokenized. People have used my image almost as a mascot on Facebook. (Once, my face was superimposed on a sombrero for Cinco de Mayo—which was troubling to me as well as, I imagine, to Mexican or Mexican-American students.) I have been at school during both elections and have seen the worst in people's opinions about minority issues. I have been told to "get over" Donald Trump's racism a number of times. I have been asked "why are black people so upset about cops?"
It's difficult for me to feel empowered enough to respond to some of the racism I see. If a bishopric member does something I disagree with I worry about my ecclesiastical endorsement. I have a hard time feeling like the administration at BYU will support me if I  do reach out to someone.